For over 18 years, Total Financial Business Solutions, Inc and its subsidiary, Stewart's Bookkeeping & Tax Service, has provided quality accounting, bookkeeping and tax preparation services for our clients. We service small to mid-size businesses and individuals with a tailored approach based on the unique requirements of each client.
We specialize in various industries including retail/e-commerce, transportation, medical, mechanical, real estate/property management, religious organizations, non-profits and entertainment. We are certified QuickBooks Pro Advisors and are experienced with multiple software platforms including Oracle, Sage50, Runit and Shopify.
We pride ourselves in building relationships with all of our clients while ensuring quality and cost effective services.
Annual participation in Continuing Professional Education courses offered by local chapters of national accounting and tax associations keeps our firm on the leading edge of ever-changing tax laws and accounting methods.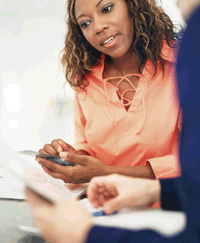 MISSION
Our objective is to give our clients peace of mind while maintaining good financial records, minimizing tax liabilities and increasing their profits. We run our business with integrity and the highest ethical standard. We take pride in helping clients reach their financial goals.
Your Success is our Bottom Line.